Greeting
What we can do is to enhance the value of things by way of showing and charming.
There are a lot of useless in the exhibition world that we regard as the center.

Why don't you set the goal and the purpose in spite of displaying at the exhibition?
Why don't you face the exhibition with earnest project members?
Why do you use and then throw away expensive booth?

You can change your sense of value of the exhibition if you concern with us.
It is not difficult to change the world.

We always enhance the skill and know-how , create innovative goods and services.
I believe that it connects with "Creation of impression and value"that is our management philosophy.

In 2014, starting global development
We create "impression and value" around the world.

Yuichi Maeda ZENSIN Co., Ltd  CEO

About us
We developed in-house components used in event or exhibition to reduce the cost. We introduced global exhibition system and address environmental problem by recycling. We also proceed with development and introducing of new system.
■Event and Exhibition division

Planning and design, construction event and exhibition
Exhibition and sale, planning,
Promotional items, POP design and production
Rental implement
※We have confidence with the amount of stock.

■Interior Development and Sales division

"DECO NANA INTERIORFACTORY"
These divisions associate each other and create "Your success, surprise and emotion"
Company profile
Meeting room with a sense of space
Our distribution system can deal with additional order quickly

In this Warehouse, we stock and control products, rental implements, each materials.
We always make an effort to improve our skill.



Turnover
500 million yen (2015 June)
Number of employees
21
Banks

Shimotoba Branch, The bank of Kyoto,Ltd.
Fushimi Branch, Kyoto Shinkin Bank, Shiga Bank

Kyoto head office

Location:
34, Minamihananacho, Kamitoba, Minami-ku, Kyoto city, Kyoto 601-8126, Japan
TEL:(075)748-6039  FAX:(075)748-6069

New Kanto showroom
3-6-8 3F・Aku, Kandaogawamachi, Chiyoda-ku, Tokyo, 101-0052, Japan
Distribution center + Showroom
Location:
The West 1F, 2-21-14, Kasuga, Chyuo-ku, Chiba city, Chiba 260-0033, Japan
TEL (043)239-5622  FAX (043)239-5623
China Jiangsu Office

Location:
江蘇省張家港市江南明珠2幢305

TEL: (0512) 58132987   FAX: (0512) 58137987
China Beijing Office

Location:
1104#Building C,Ocean International Center,60 Middle of East Fourth Ring Rd.,Chao Yang District Beijing,China

TEL: (0086)10-53653973
Dubai Office
3rd Floor, Building B1, DWC office park, Dubai Aviation City, Dubai, U.A.E
Overseas network

Shanghai, Singapore, Indonesia, Germany (Köln),

The Middle East(Dubai), Las Vegas, Africa
We can offer service all around the world
Manufacturing plant


Location:
9-26Mitsuyamoto-cho, Nagahama city, Shiga 526-0024, Japan
TEL: (0749) 63-5160   FAX: (0749) 63-9348

Delivery truck
3 Wide-long aluminum panel vehicle(3t),  1 Wide-long aluminum panel vehicle(1t), 1 HIACE(1t), 1 Flat-bed truck(1t), 2 Light truck, 2 Light van
History
1991

Established Shiga Display

June, 2001

Founded ZENSIN Inc. in Akaikemachi, Shimotoba, Fushimi-ku, Kyoto

June, 2002

Opened Osaka Branch office

April, 2003





December, 2003

Extended business; Moved head office to 76 Enmendencho, Shimotoba, Fushimi-ku,
Kyoto city. Started planning division, producing promotional items
Imported "EXHIBITION SYSTEM SODEM" from France

Opened Nagoya Branch office




December, 2004

Original brand "DECO NANA INTERIOR FACTORY" debuted
Opened ZENSIN portal site; www.zensin.jp
Imported "EXHIBITION SYSTEM OCTANORM" from Germany

January, 2005

August, 2005

November, 2005

Started China trade business

Opened  www.deconana.com , website of "DECO NANA INTERIOR FACTORY"

Opened www.bodyhanbai.com ,website of mannequin, torso, lay figure selling business

Started sales of Aluminum-trass and Exhibition systems

January, 2006

May, 2006



August, 2006

Started original mannequin manufacturing and selling

Started www.sokupri.com; large-sized printing, making poster, web manuscript and
nationwide shipping

Changed into a joint-stock company.

January, 2008

March, 2008

Opened Tokyo branch

First own exhibit at JAPAN SHOP




June, 2009

Opened Shanghai branch( 1 hour distant from Shanghai)


October, 2010

Gained Certification "Management Innovation planning" and "Genki-jirushi" from

 Kyoto prefecture

January,2012




September, 2012

Announced "SUGOI Tenjikai"
Kyoto prefecture approved us as a model of "Wisdom Management"
November, 2013
Renewed ZENSIN portal site
Overseas expansion began from opening Beijing branch
Alliance with exhibition producing company in Dubai, Las vegas and Germany

November

,2013
Portal site renewal
It is a global launch start to a start about the Beijing branch establishment.
The show producing company and alliance contract of Dubai Las Vegas Germany

Management principle
"Create KANDO values"

Under our vision, principle, guidelines for action, we will advance to the goal without
Compromise. We do create "Improvement, Happiness, Excitement" for customers,
ZENSIN members, traders, family, everyone we are related.
Mission
To contribute to customer's benefit making use of passion, knowledge and know-how
that we have.

Guidelines for action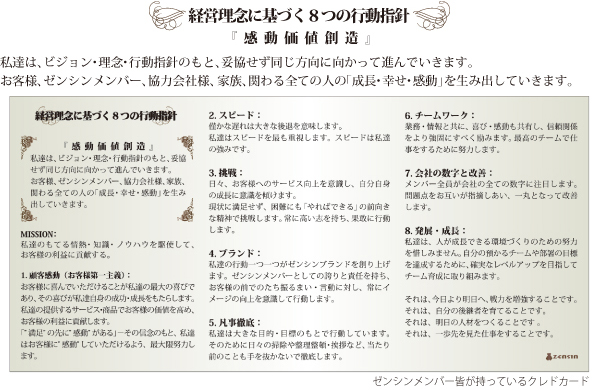 1.impress customers(customers-first principle)
It is our extreme pleasure that customers are satisfied and feel happy. This pleasure bring success and progress to us. Our service and products enhance the values customers have and contribute to their benefit and happiness.
"There is Kando after satisfaction" On this philosophy, we will make maximum effort to impress our customers.

2.Speed
Even a little delay causes retreat. Speed is what we think the most important. Speed is our advantage.
3.Challenge
We always consider how to improve our services and focus on our own progress. We never be satisfied with the present situation, challenge difficulties having the spirit of " We can do it!" We act courageously with great ambition.
4.Brand
Our each action create the value of ZENSIN brand. Having proud and responsibility as a member of ZENSIN, behave to improve a company's image.
5. Do all the tasks properly
We work aiming at big purpose and goal. To achieve that, we do perfectly any simple tasks such as daily work, cleaning, greeting,
6.Teamwork
We share not only task and information but also pleasure and emotion. We make effort to strengthen our relationship and be an excellent team.
7. Company's figure and improvement
All the members pay attention to every figures in company. We point out problems each other, unite to resolve them.
8. Development and Progress
We do all the things that we can do for making environment ideal to development. To achieve our goals of team or division, make the team surely improving.
It is that increase power tomorrow more than today.
It is that train own successor.
It is that develop human resources for tomorrow.
It is that do the job looking one step ahead.
Our wish in logo

It is in 1902 that a teddy bear was born. Indeed it is more than 100 years ago.

It is forever loved by all gender and generations, nationality.
It makes me happy and feel better just looking.

We expressed feeling that "Aim the company which is loved forever" to our logo.
V I S I O N
"High Quality Total Display ZENSIN" to "Branding Factory ZENSIN"
We will be the creative consulting company that can support branding, CI and design, promotion strategy integrally.
You can rely on us.
We can support all of the strategy which increases the value of company and products such as producing excellent exhibition space, novelty, DM, catalog, Web, visuals.
We must be superior in the display industry.
At first, we will be a company filled with gratitude and excitement, resulting billion yen sales until 2016. 
In 2020, we will list our stock and create larger "Improvement, Happiness, Excitment".
Media coverage
March 2016 " daily economic newspaper " published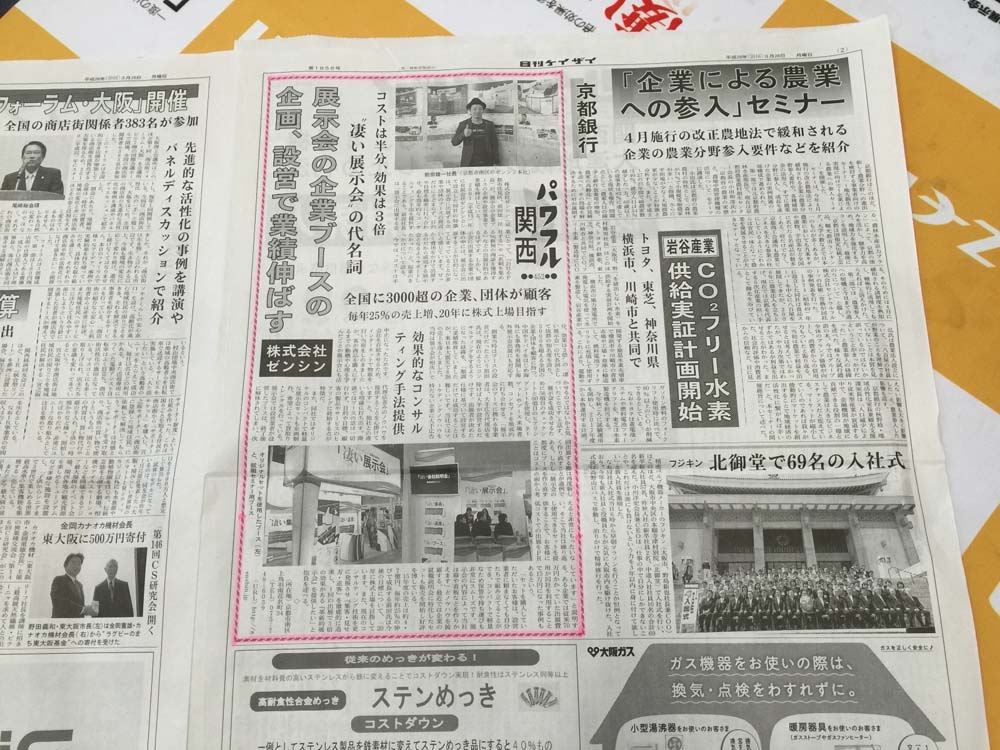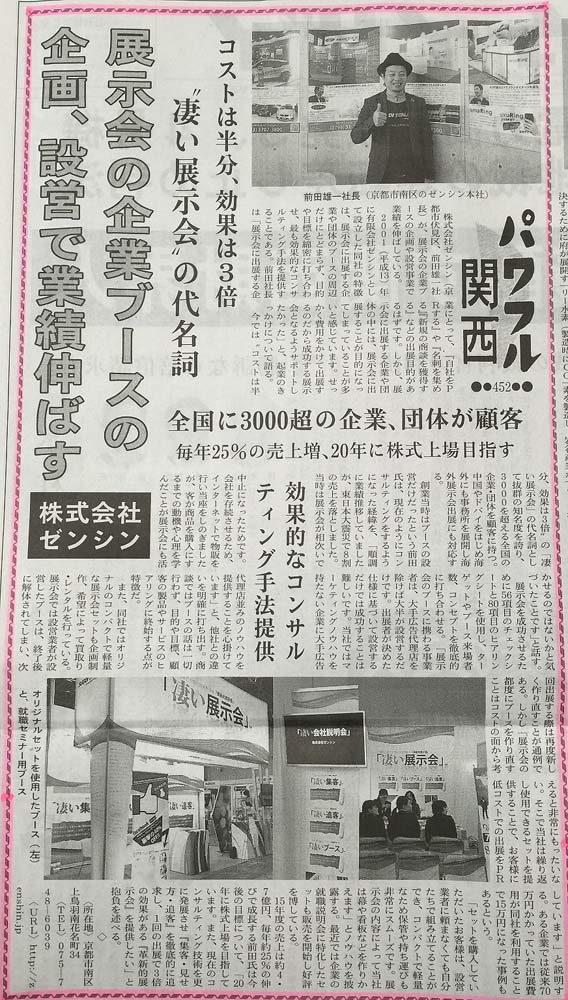 January 5, 2016 "Local creation Handbook" published
August 5, 2015 "Senken newspaper" published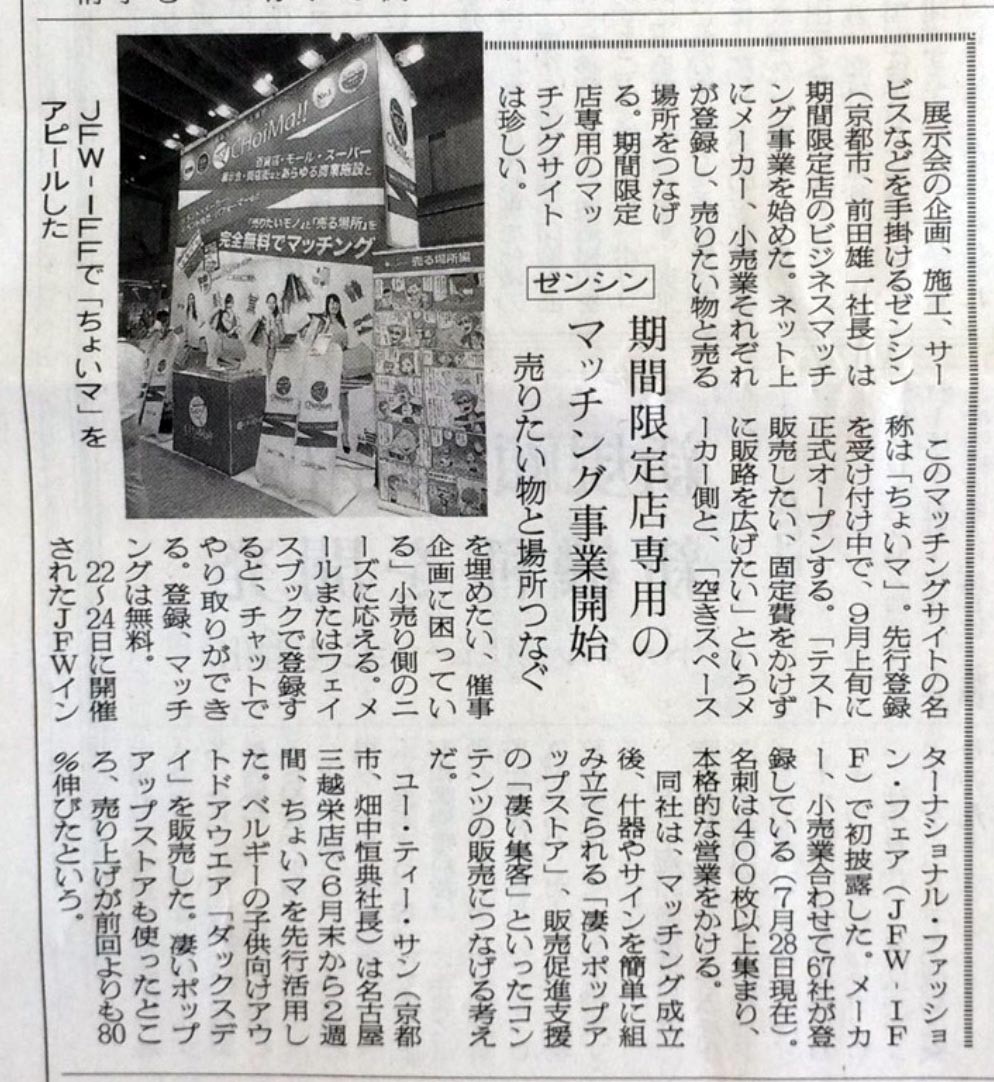 June 1, 2015 "Senken newspaper" published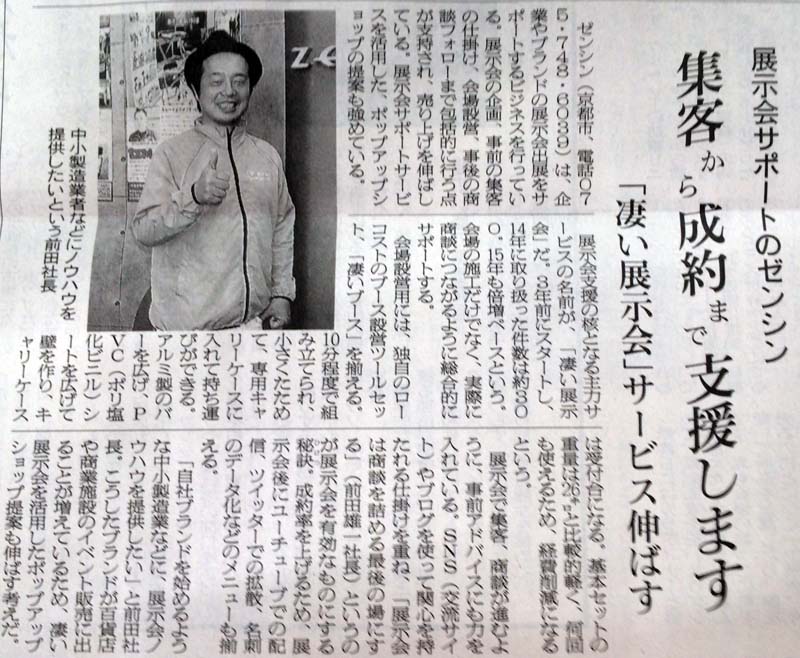 April 17, 2015 Good morning Kansai energetic small and medium-sized enterprises appearance [president Blog]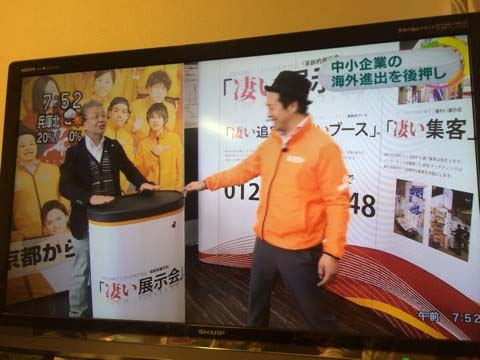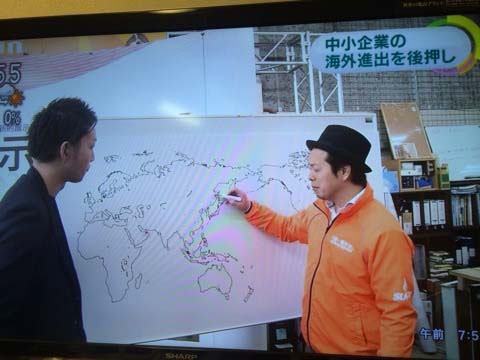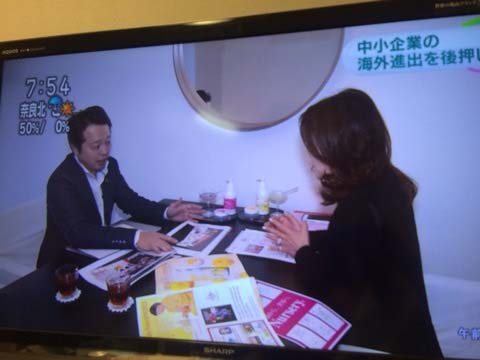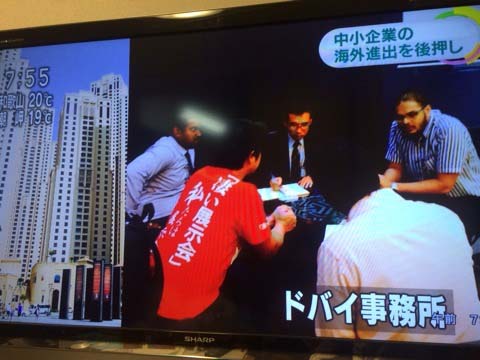 March 16, 2015 Kyoto Creative 21 posted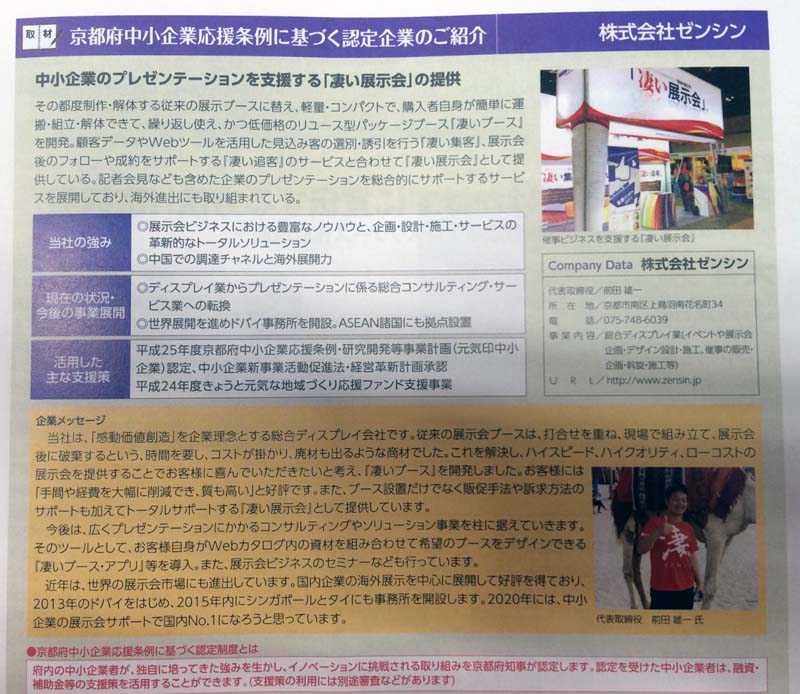 2015 Empire bank-like "TEIKOKUNEWS" published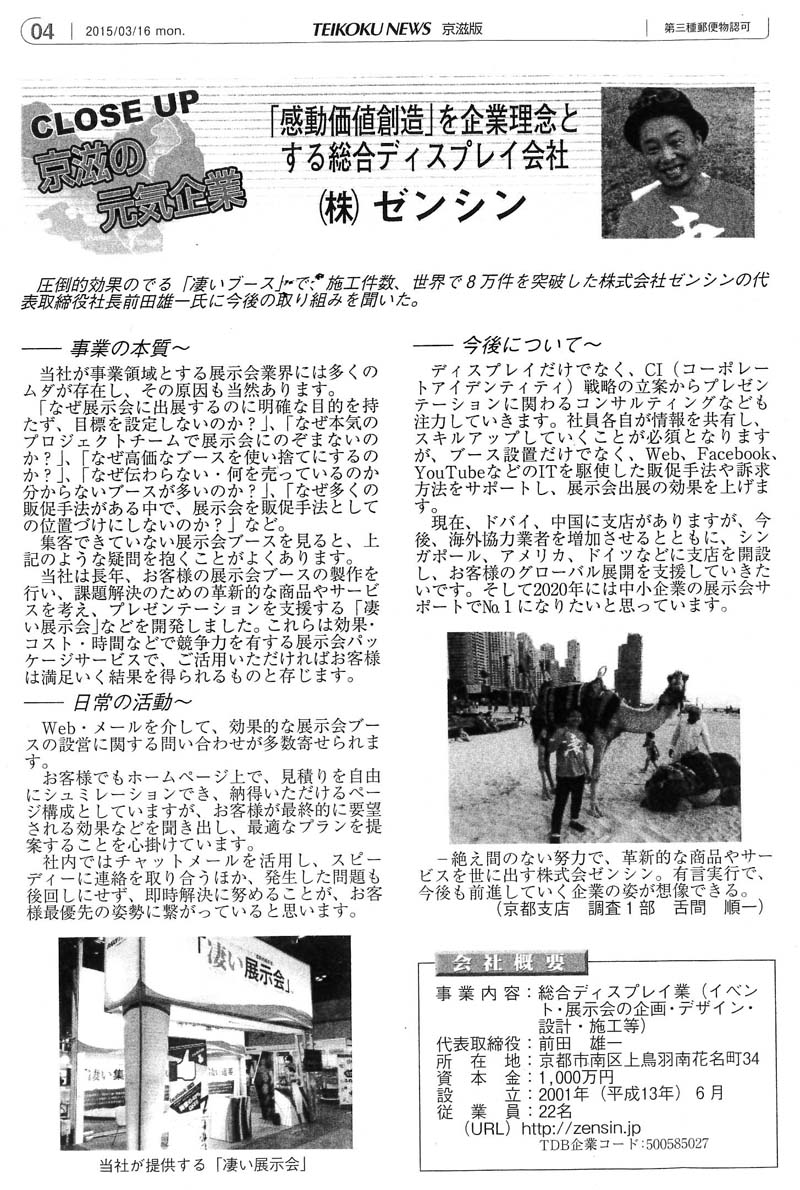 December 31, 2014 to brighten the small and medium-sized enterprises! Business Success Journal Japan bright economy Newspaper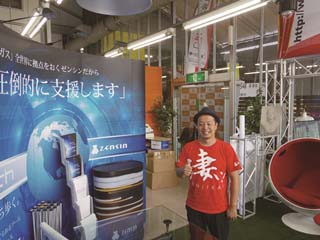 October 2014 Nikkei Keizai Shimbun article published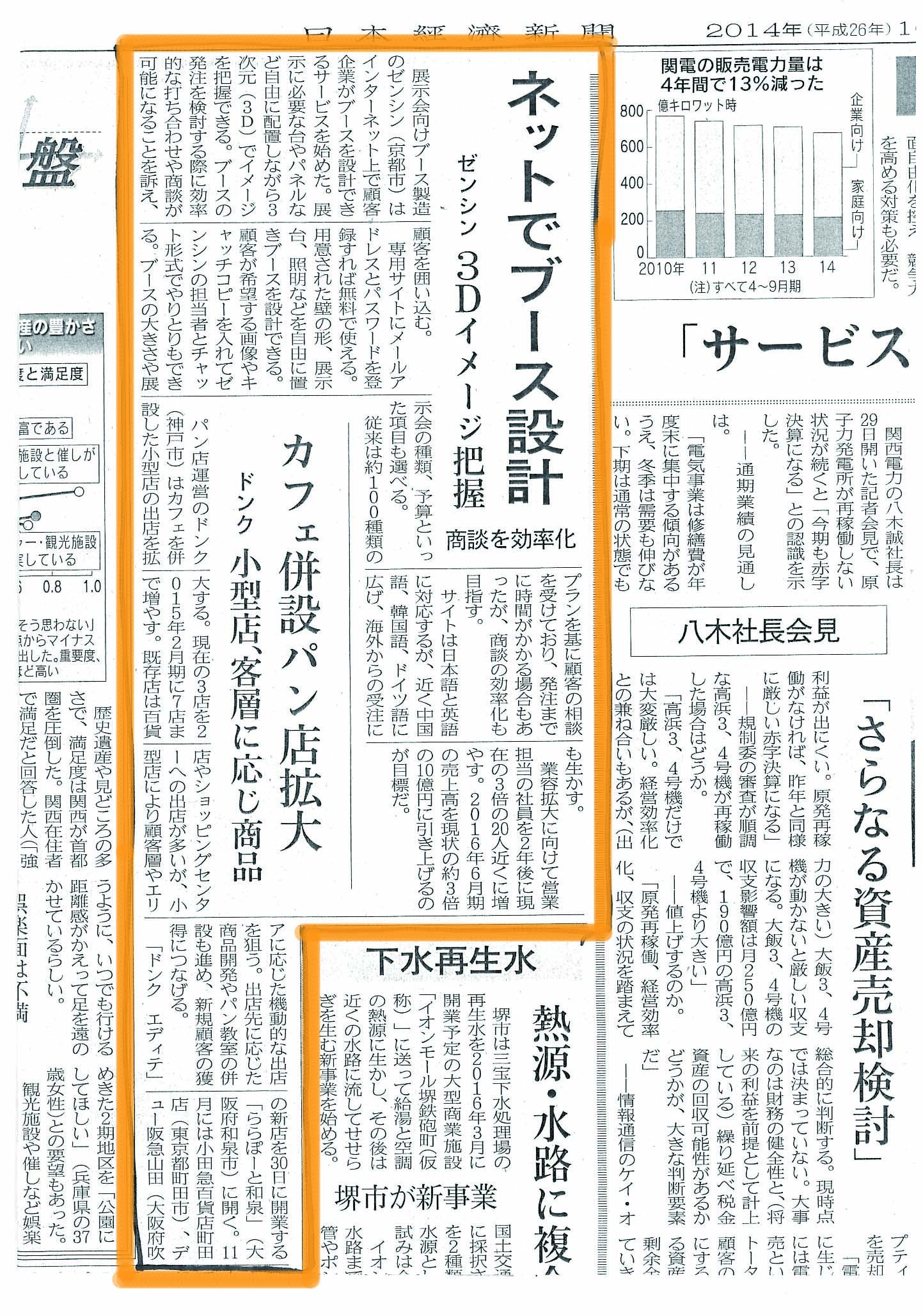 August 7, 2014 Nikkei Keizai Shimbun article published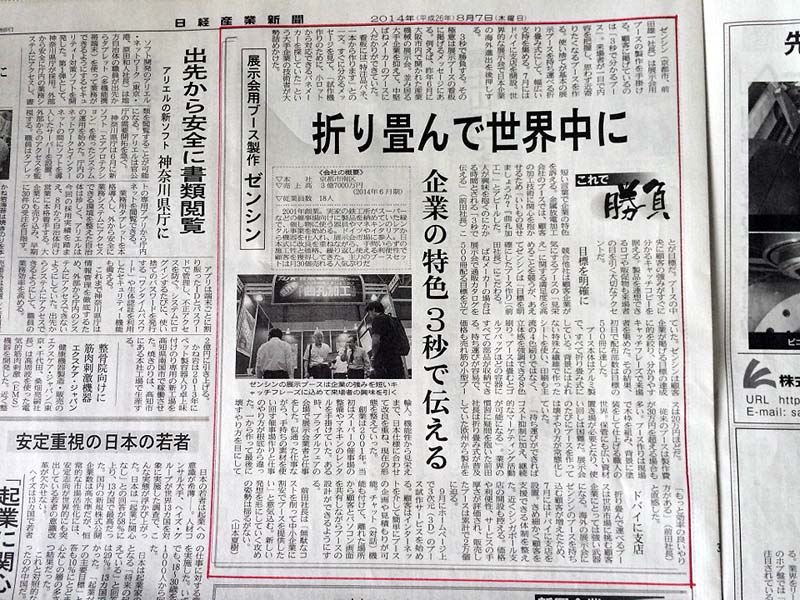 2014 Nikkan Kogyo Shimbun article published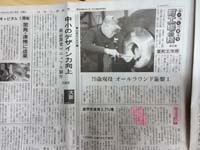 Global Partners published in 2014  【Download of the article here】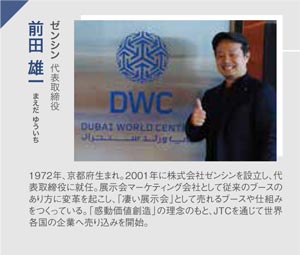 March,20014 "Kyo Biz"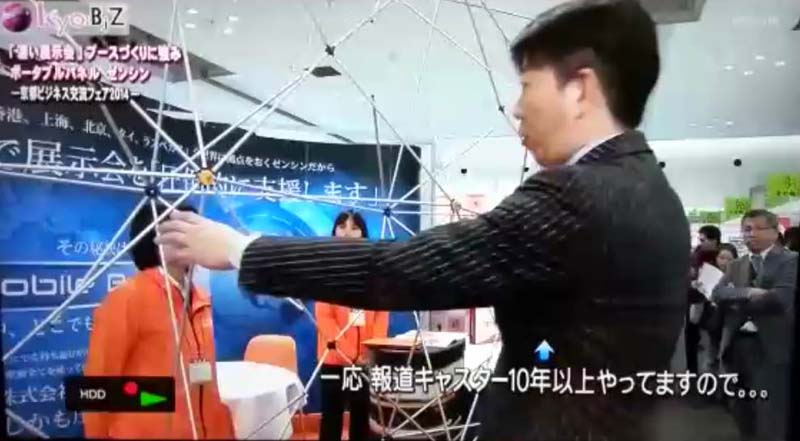 We were published in the magazine "Kyoto o-en fund".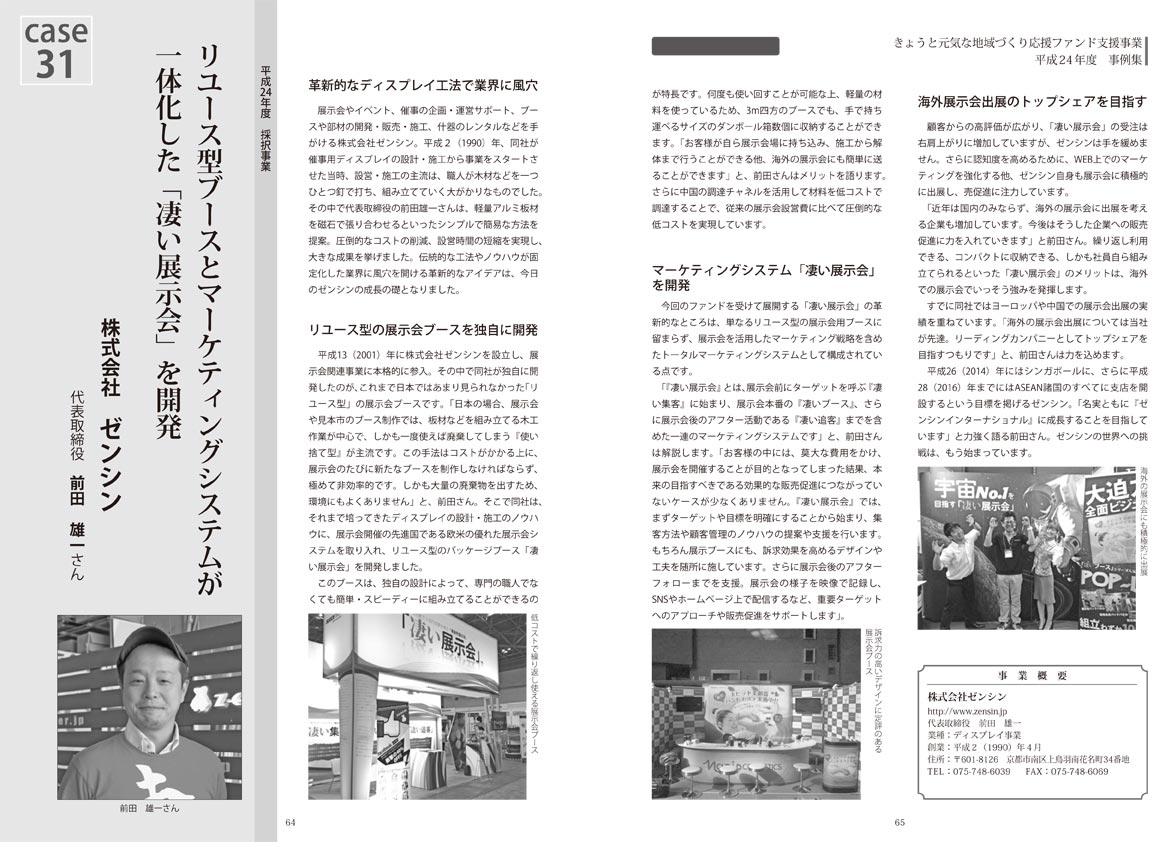 4,March,20011 "Kyoto Business Review".(Kyoto Chamber of Commerce and Industry report )
Our management strategy had been taken up by Kyoto Chamber of Commerce and Industry bulletin. This bulletin consist of various information about management such as information gathering, building up a network of connections and training of employees.
Click the picture to read the article.
21,August,2009 "Fuji Television". in [Super news anchor][Question of Friday]
One of our products was broadcasted on the news program "Super Anchor" by Fuji-Television. They picked up our easy to assemble "POPUP Display" which can be used as a back panel of press conference.
Click the picture to read the article.
17,July,2009 "Nikkan Kogyo Shimbun".

Our picture of construction had been printed in the Nikkan Kogyo newspaper on July 17 th, 2009.
Click the picture to read the article.
July,2004 "Gendai Gaho".
An interview article between Yuichi Maeda, our CEO and Tomoko Aihara, an actress had been published in the magazine "Gendai Gaho".
Click the picture to read the article.
February,2002"SBJ".
February construction 2002
If it clicks a picture, a printing report can read.
Notation based on the Specified Commercial Transaction Act
Seller

ZENSIN Co.,Ltd

CEO

Yuichi Maeda

Address

34, Minamihananacho, Kamitoba, Minami-ku, Kyoto city, Kyoto 601-8126, Japan



Charge except for products

Delivery charge (The price differs depend on product)



Effective period of an offer

A week after the order is confirmed formally

Defective product

If you receive product has initial failure or damage by delivery, please let us know before use it. Then we confirm the problem and repair/replace it immediately.
We pay all the delivery charges then.
In principle we don't accept customer requests for cancel. Please understand that and be sure to deliberate before order.

Delivery date

Basically, we deliver soon after confirming your payment.

Payment Methods
Bank settlement

Returning

(1)We don't accept the returning or replacing non-defective products without exception. (include difference of color or design image because of PC environment)

 Before an order, please confirm the carrying route and consider carefully.


(2)When you receive product, please check if it has initial failure or damage by delivery.

 In the case of an initial failure or damaged by delivery, please let us know before you use it. We replace it then delivery charge is to be paid by us.


(3)We have "make to order" products which is produced after receive an order.

 These products can't accept cancel after the factory start producing.


(4)When you receive the product, please open and check it. If there is some problem like damage, please take pictures of the defected part and the whole to send us.

 We confirm them and send you a slip for replacing.

Return Shipping

Please pay the delivery charge when you return the product.

TEL

075-748-6039

E-mail
info@zensin.jp
Web site
http://www.zensin.jp/
Privacy policy
1.When to use information

In some case, we request to register your user name and e-mail address. These information is only used for confirmation and inquiry when you use our service.

2.Uses for information

Your information given us in some case will be used to improve and provide more attractive and valuable service in ZENSIN.
We do not release your personal information without permission.
Except for application of the law and legally binding demand, we never release any personal information.

3.Share information

When you use personal services, the information which can be confirmed as same individual may be shared in ZENSIN network. It is for the purpose of notifying that you registered personal data before. Of course we never intentionally release these personal data to individual or organization not approved as our partner.
Trading performance
Amway   株式会社泉宣宏社   九州工業大学   クボタエイトサービス(株)   慶応義塾大学   公益財団法人笹川スポーツ財団   学校法人上智学院   新関西国際空港株式会社   株式会社セレスポ   生活協同組合連合会コープネット事業連合   積水メディカル株式会社   ソニーPCL株式会社   株式会社第一興商   帝塚山大学   帝人エージェンシー株式会社   電通パブリックリレーションズ   一般社団法人東京都中小企業診断士協会   株式会社東京工業品取引所   東京弁護士会   豊田市役所   ナブテスコ株式会社   ニチバン株式会社   奈良先端科学技術大学院大学   日通旅行株式会社   日東メディカル株式会社   日本合成化学工業株式会社   パナソニック株式会社   株式会社博展   東日本高速道路   MONTER ENERGY JAPAN合同会社   株式会社マイナビ   丸紅情報システムズ株式会社   四日市観光協会   リンナイ株式会社   ロート製薬株式会社   陸上自衛隊