What's ZENSIN

We construct exhibition of large company. We also print personal portfolio.
ZENSIN has strength in "Total Visual Support Service" based on space design
ZENSIN Point

Efforts of ZENSIN
We have responsibility to support customer's success at exhibition. To make customer's effect of exhibition higher than they've ever experienced, we ourselves attend exhibition on a regular basis. From own experiences at exhibition, we can realize difficulties and possible failures in exhibition. This lead us to find solution and we offer you as a know-how of "Sugoi Tenjikai".

Debut of "ADEN Manequin", manequin for select shop at IFF(International Fashion Fair) in 2011.
Our strategy of customer attracting in advance, attracting and follow-up service, helped a lot of people become familiar with ADEN. As a result, many purchase contract had been established. (Link to other page)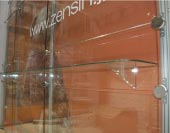 We exhibited our exhibition system in 2005 JAPAN SHOP(Construction and Building exhibition) but ended in failure. Our exhibition system which is a combination of glass-wall system and light-wall system, we professionals of constructing exhibition booth thought it was so excellent. However, it was just self-satisfaction. There was almost no result in the end.  Actually, we hadn't attended exhibition until 2011.
This failure leaded us to research elements of success in exhibition and we have acquired know-how of success in exhibition and we keep on seeking more.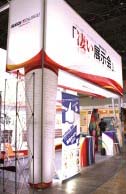 An exhibition of "Sugoi Tenjikai" in 2012 EVENT JAPAN
"Sugoi Tenjikai" had been produced and we exhibited it using our tools of "how to produce results". In addition to existing customers, a lot of people who had gotten interested in "Sugoi Tenjikai" through website or mail magazine, came to visit our booth. Because our booth is outstanding, even people who came to visit other booth dropped in.
Furthermore, we did concrete business talk with many of them. Our exhibition was a great success and this success made us to have confidence in "Sugoi Tenjikai".

We introduced "Sugoi meeting" to achieve our goal; creating great and valuable emotion. "Sugoi meeting" has been introduced many companies in the world. In our company, it is held to permeate everyone with management philosophy and to maximize value we offer to customers. We think our business is the service industry and we are always pursuing "real customer service".

We perform afforestation project through "Sugoi booth". On each construction of "Sugoi booth", we will apply for afforestation project called "Present Tree" in the name of ZENSIN and customer. Ecology is one of concepts of "Sugoi booth", so we should contribute to reforestation for the future environment. We send "afforestation certificate" to customers.
We also make all-out effort for security. To customers who order "Sugoi Tenjikai", we offer rental free security camera for a security measure of the booth. There are some samples of new product and many expensive equipment in exhibition. Security camera and sign of "The security camera is operating" will reduce the risk of theft.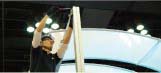 What if customer's precious thing was damaged…?
We have liability insurance in case of such accident as property damage during delivery.
(The maximum amount of compensation is 2 hundred million yen)
You can visit to see how we are constructing exhibition booth by reservation. By seeing examples of construction and the construction process, you can really understand us. We hope you leave the work to us with being convinced, and assured completely.

We can offer at a reasonable price!

We produce over 300 booth to SMEs, major companies, overseas companies.
We do ourselves throughout this process.

Plan&design-Manufacture-Rental-Distribution-Construction

Cooperation with China factory
Our members in China office are in charge of quality control.
We have cooperative relationships with many factories of Sign, Woodwork, FRP molding and so on.
We can produce the most effective booth within your budget.
We can make your effect of exhibition bigger and bigger. ZENSIN contribute to your success through excellent exhibition.

Further strength of ZENSIN

We thoroughly correct information about customer's purpose of exhibition and about the way of expression. After the meeting between business staff and creator, make a presentation to customer. We manage the progress of manufacturing and constructing with responsibility, you can rely on us from the beginning to after-sales service. By analyzing the result and according to the report, we suggest the points for improvement.

Our creators are specialist in marketing and sales promotion. We train designers to have marketing skills so that we can meet customer's demand flexibly. The best plan created by using our skills, experience and knowledge will convince you. We can deal with the unforeseen situation.

We stock large amount of rental materials and exhibition equipment like Okutanorm.
We don't throw away products but reuse them, what we call eco-friendly.
We have wide variety of products which can meet your needs.

Based on the drawing which planned as a result of the meetings between customer and us, we start manufacturing. We confirm any little design and the real things with customer. We focus on the speed and perform quickly and smoothly. We will produce booth brimming with originality. We can offer you high quality and high speed service because it is us.